All Sales are Final.

There will be a $30.00 fee on any returned check.

Thank you for choosing

Celebrate with Yard Cards and Storks!!

We Deliver 7 days a week 363 days a year!

Let us know how we can turn your

special occasion into a memory

that will last a lifetime!!

Call us to reserve yours today!!

918.258.Gift(4438)

Tulsa, Oklahoma

Celebrate any occasion with a Yard Card

Birthday ~ Anniversary ~ Wedding Proposal

Engagement ~ Get Well ~ Retirement

Just Because ~ Graduation ~ I'm Sorry

Welcome Home ~Thank you and more.

All yard cards come with a 3X4ft. marquee sign

with your special message and a card to let them know

who it's from. One day rental for $65.00 plus tax and delivery.

Our yard card's are set up by 6:30 am. and

are taken down around 7:30 pm. that evening.

You may choose to mix or match any yard display or you can

add starburst, 30,40,50,60,70 black clouds or hearts to any yard card.

It Takes A Whole Yard To Read Our Cards!!!

24 Flamingos will fly into your yard along with a marquee sign and your special message.

24  flamingos $65.00

25 to30 flamingos $75.00

30 to 40 flamingos $85.00

40 to 50 flamingos $95.00

Click on any Picture to order!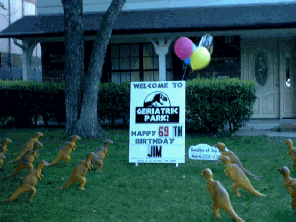 One of popular birthday displays are the

T-REX Dinosaurs. We put out a total of

  22 of the little beast for all occasions.

  The marquee sign says "Welcome To

Geriatric Park" or you may choose to have

a marquee sign and your special message.

For that Special Occasion "HOW ABOUT

A GREAT BIG SMILE" not one but 20 of

our Smiley Faces will grace the yard of

your Special person.

Perfect for the Sports enthusiast!

We will fill the yard with a total of 20

sports signs including Foot balls, Soccer

Balls, Baseballs, Basket Balls and Golf Balls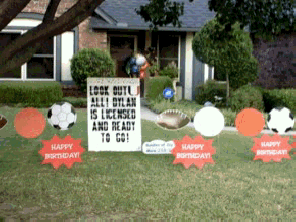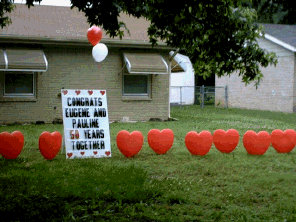 Our hearts are great for announcing

Love Messages, Engagements, Anniversaries and  Proposals. The marquee sign is surrounded by a total of 18 hearts.



Our number ones and smiley faces are a great for wishing that 1 year old a happy birthday!

The marquee sign is surrounded by 10 polka dot number ones and 10 smiley faces and your personal message.

1st Birthday and Smiley Faces

Mustache birthday wishes!

The marquee sign is surrounded by a total of 12 mustaches and 12 smiley mustache faces.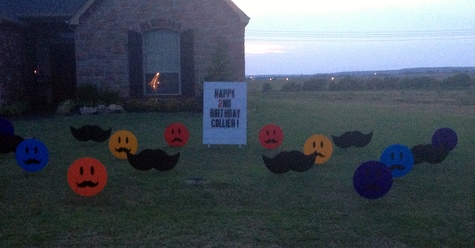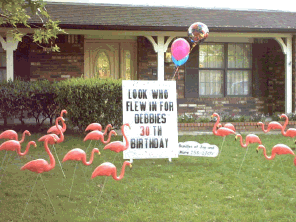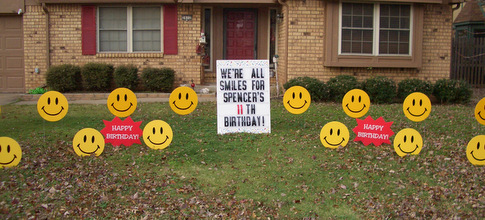 Candy Land Sweet Treats!

The marquee sign is surrounded by a total

of 24 candy treats.